News
Becoming Nature: Learning the Language of Wild Animals and Plants - available March 31st!
Learn the language of Nature with this step-by-step guide to animal and plant communication through connection with your primal mind and by immersing yourself in the natural realm. This book includes exercises for learning how to become invisible within Nature, sense hidden animals, and communicate with wild animals and birds.
Read the first chapter here. Visit Amazon.com to order your copy, available March 31st!
---
Extreme Survival Meat is now available!
Whether you are faced with an extreme survival situation, or you're simply wanting to obtain animals without hunting or trapping, this book will show you how to find, process, and preserve meat without anything but a knife. There are also special sections on roadkill and how to make pemmican - the most nourishing and long lasting survival food.
In an extreme survival situation, this is one book you don't want to be without. It belongs in every backpack, glove compartment, and survival kit, so it will be there when you need it.
ORDER HERE TO SUPPORT THE WOLF SANCTUARY
---
Entering the Mind of the Tracker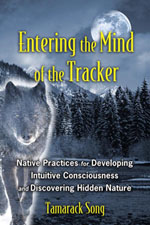 There's only one thing that keeps you from being a good tracker. No, it's not that you haven't taken some special course, or because an expert tracker hasn't passed his secret knowledge down to you. And no, this book won't give it to you.
Because you already have it.
Read more
---
A Tidbit of Zen
"Tamarack's beautiful, clear interpretation of my favorite Zen scripture especially captures the essence of true, effortless non-dual realization. May all who see it immediately open to the always open Heart.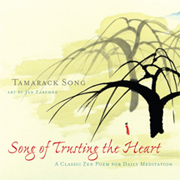 The haunting lyrics of Song of Trusting the Heart express the essence of Eastern philosophy: the Buddhist's peaceful asceticism, the Taoist's poetic sensitivity, and the Shaman's sage wisdom. Tamarack's clear and accurate text restoration, along with Jan Zaremba's engaging classical artwork, make this classic poem easily accessible to all seekers.
Song of Trusting the Heart has been given two Nautilus Awards!
Available Now!
Blog
Tamarack's reason for writing has always been to join in dialogue, as though he were sitting together with his readers around a fire. Come sit around the hearth to discuss the Old Way, healing, Zen, tracking, dreams, culture, childrearing, and more.
Whispers of the Ancients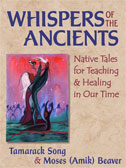 Whispers of the Ancients has received the Nautilus Award, three Midwest Book Awards, and was honored as a special storytelling resource by Storytelling World. Foreword Review says, "beautifully illustrated...a lovely collection of stories."
Links of Interest